Use Free Resume Builder. Create a Professional Resume for Free With Our Resume Maker.
Use the best free resume builder. Build beautiful and professional resumes in a few clicks! Our resume builder is perfect and easy to use. Custom-tailor resumes for any job within minutes. Increase your job interview chance and rise above the competition.
The online resume builder getting candidates hired by Amazon, Google, Apple, Microsoft, Tesla, and Airbnb.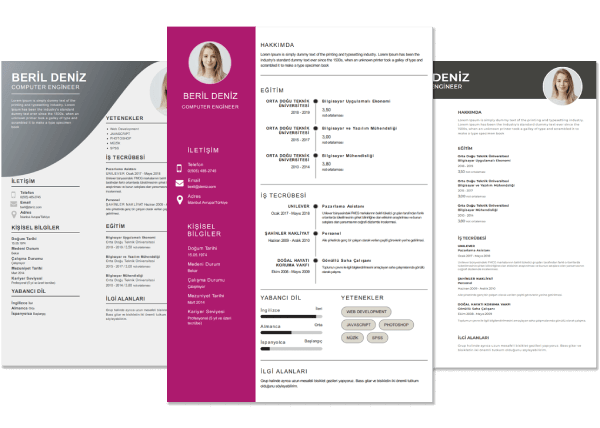 Resume Maker: Just 3 steps to download your resume!
1. Pick a resume template.

2. Make your resume in our app.
3. Download your resume in PDF.
Build a resume online. Choose a template:
Here's what people say about our online resume maker:
4.5 out of 5
based on 40,405 reviews
The app has an amazing...
The app has an amazing interface which also provides helpful tips on necessary information on my resume.
Jennifer Lenon
Great service
Great service, great templates. Easy to use and provide a lot of beautiful templates.
Mark Twins
Try it! It really worth it.
I really love this builder. Building a resume without any effort is priceless. Thank you so much!
Sheri Strong
Try our free resume builder!
Online tools such as resume builders and job search websites have become the new norm in modern-day career advancement. The resume building process is easy and modern.
We have developed a resume builder based on feedback from thousands of users, recruiters and the best hiring practices. The goal is simple: help you get that dream job interview!
Experience our professional Resume Creator
A Quick and Easy Way to Create Your Professional Resume. 30+ Professional Resume Templates Choose from over thirty modern and professional templates. All of which can be customized to your liking. Fast and Easy to Use Our resume creator lets you easily and quickly create a resume using our resume wizard.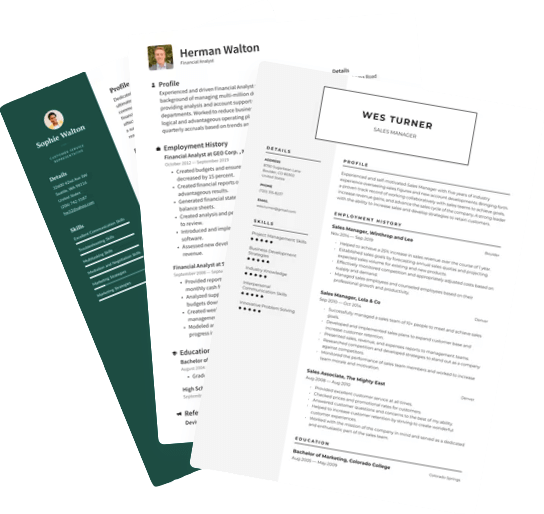 You've never seen a resume maker online free like this
Every part of your resume built to impress employers. Get an advantage in the modern professional work life.

Top talents love our free resume maker
Toptalent's online builder tool and collection of elegant, recruiter-tested templates are used by more than 10 million people around the globe! We are incredibly proud to empower so many active professionals.

Resume free. Rest one word? HIRED
You'll finally get a job you want, not the one you have to take. Break free from the vicious cycle of lowering expectations just to get any job. Start picking between offers you actually want. Apply the resume generator's advice, optimize your application, and get that dream job.
Frequently asked questions