Teklas
Üretim - Kocaeli -
Hakkında
Teklas established its plants in Gebze in 1971, Bartın in 2004, Kardzhali/Bulgaria in 2006, China in 2012, Serbia in 2015, Mexico in 2016, Vratsa/Bulgaria in 2019, and USA in 2020.
Teklas has Sales Offices in Germany and France.
Teklas is prioritized it's strategies as to offer innovative products to the customers, compete in the global market, grow profitably, design each product with unconditional quality approach, draw strength from creative talents, add value to the society with the awareness of social responsibility, and last but not least to enrich our environment.
A great success story started from Turkey,
now reaching to the world since 1971…
1971 Foundation of Teklas: Starting Production of Rubber Injected Parts
1973 Starting of Rubber Hoses Production
1978 Starting of Windscreen Wiper Production
1985 Startin g of Brake Hose Production
1989 First international customer/export GM
2003 Opening of the R&D Center in Gebze, Kocaeli, Turkey
2004 Investment in the production facility in Bartın, Turkey
2006 Investment in the production facility in Kardzhali, Bulgaria / First overseas investment
2007 Investment in plastic production technologies (3D BlowMolding , WIT and Thermoforming)
2009 R&D certificate in the Republic of Turkey
2011 Starting of Metal Pipe and Assembly Production
2012 Investment in the production facility in Chang Xing, China
2015 Investment in the production facility in Vladicin, Serbia
2016 Investment in the production facility in Aguascalientes, Mexico
2016 Opening of the Sales Office in Stutgart, Germany
2017 Opening of the Sales Office in Paris, France
2017 Investment in fourth plant and R&D Center in Kardzhali, Bulgaria
2019 New investment for production facility in Vratsa, Bulgaria
2020 Investment in the production facility in Calhoun, USA
Teklas is leading the future of the automotive industry by moving the products and solutions to a further developed level in Teklas R&D centers, with the most competent and professional engineers and experts in their fields.
With the increase in R&D investments and constantly growing centers, Teklas implements design validation optimization and validation processes to meet the needs of its customers and serves the best quality and most convenient solutions to the customers in less than no time. Going beyond the international standards in the production of Fluid Circulation systems with its environmentally friendly and innovative approach, Teklas creates brand-new solutions that are competitive both in performance and price in the new production technologies with the help of 3D Blowmolding or WIT technologies
Daha fazla
Gülsunay Uysal
Global Human Resources Director
Human Resources Department of Teklas realizes that to achieve our vision of being the best fluid systems supplier within the Global Automotive Sector, Teklas needs employees who can make a difference. What Teklas means by emphasizing "making a difference"? It specifies the talents who can act in compliance with the corporate culture of Teklas and work with devotion. Teklas has talents who are flexible, dynamic, and coherent with our multicultural structure. To reach our vision, Teklas selects its new talents delicately. As Teklas, we do what it has to be done for the development of our talented family and by doing so; we support them on their flow to the future!
Daha fazla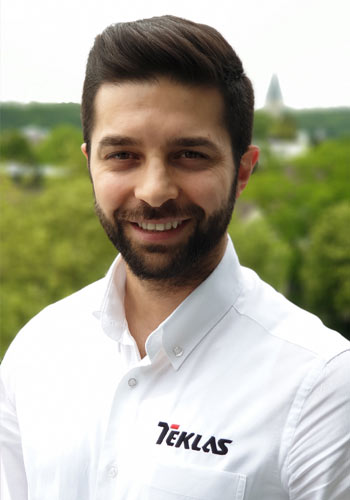 Necati Fakkusoğlu
Sales Manager, Germany
We have been told that "Sales is just a numbers game" over the years and it is still a popular belief today, but it is NOTHING more than a WRONG MINDSET. As Sales Team of Teklas, we believe in relationships with our customers. We approach to each customer with the idea of helping them to solve a problem or achieve a goal. In this manner, we do not close sales, but open relationships. Because Approach does matter. To achieve this goal, our current key power is having a strong, robust and stable team with skills of product knowledge, time management, efficient communication, good attitude, active listening, being proactive, problem solving, being on-site, which makes our flow to the future smooth, profitable and successful.
Daha fazla
Rafi Yenigün
Sales Manager, France
Our most important strategy is to understand and provide the technically optimum and commercially most competitive solutions to our customers demands. This is the challenge that every single day motivating and pushing us forward as the Teklas Sales Team. On the other hand, the market and our customer's needs are changing continuously. To keep up with this dynamic field, Teklas' capability and 50-years experience in the automotive sector is the best tool and negotiating power we have. We are reflecting this knowledge and care to every business opportunity, new technologies and the product ranges. This is our key to the sustainable success, and the defining element to our flow to future.
Daha fazla