Meet online with students, graduates and professionals in Azerbaijan & Turkey.
Connect with students and graduates in Azerbaijan & Turkey without leaving your office!
AzerbaijanVirtual Career Fair enables you to promote your company, chat with interested students, graduates and professionals, capture high-quality leads, and provide detailed information, just as at a physical fair, but from the comfort of your office.
Oct 20, 2020

10:00 - 16:00

Online
FOR COMPANIES
Azerbaijan Virtual Career Fair is an online event that allows top companies to chat LIVE with top talents in Azerbaijan & Turkey.


Reach millons of students and graduates
Reach a broader cohort of prospective students without the cost of travel

Easy to use
Conduct live chat sessions with students and graduates from the convenience of your computer

Real-time analytics
View a list of students and graduates who are explicitly interested in learning more about your company
FOR STUDENTS & GRADUATES
Azerbaijan Virtual Career Fair allows you to learn more about the companies you're interested in, chat with HR professionals, and get tips on how to best prepare for the recruitment process.


Anywhere, any time
All that, from the comfort of your house.

Meet the HR professionals
Chat live with HR professionals from top companies.

Discover best companies
You can search for companies based on your preferences, visit their digital booths to get detail information.

Make the right choice
No time wasted! Discover the companies that offer the departments that best suit your talents and make your choice now!
REACH MILLIONS OF UNIVERSITY STUDENTS & YOUNG PROFESSIONALS
You will have the opportunity to show your university to thousands of university students and graduates.
525.000 Members
The best students and graduates in Turkey use toptalent.co.

5.5 Millions Unique Visit
Thousands of students and graduates visit toptalent.co every day.

8.5 Millions Reach
Reach millions of Turkish students and graduates online.
PREVIOUS VIRTUAL CAREER FAIRS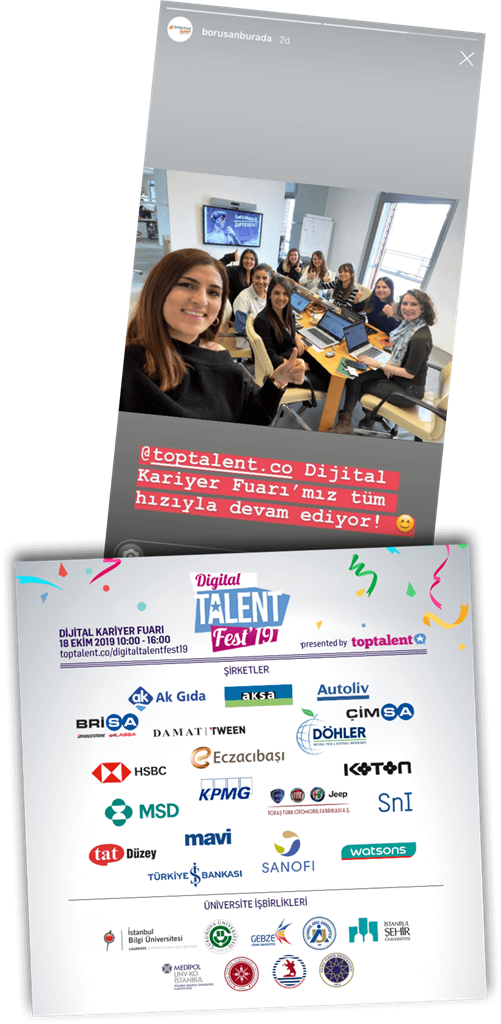 1. Show
Build and decorate your booth, much like you would build a physical booth at an in-person fair.
2. Share
Customize it by adding office photos, and uploading your photos, videos, company information and company details.
3. Chat
Chat with prospective students and graduates in real time via 1-on-1 text chats.
ALL PRICING PLANS
Compare Virtual Career Fair plans and find the plan that's right for you!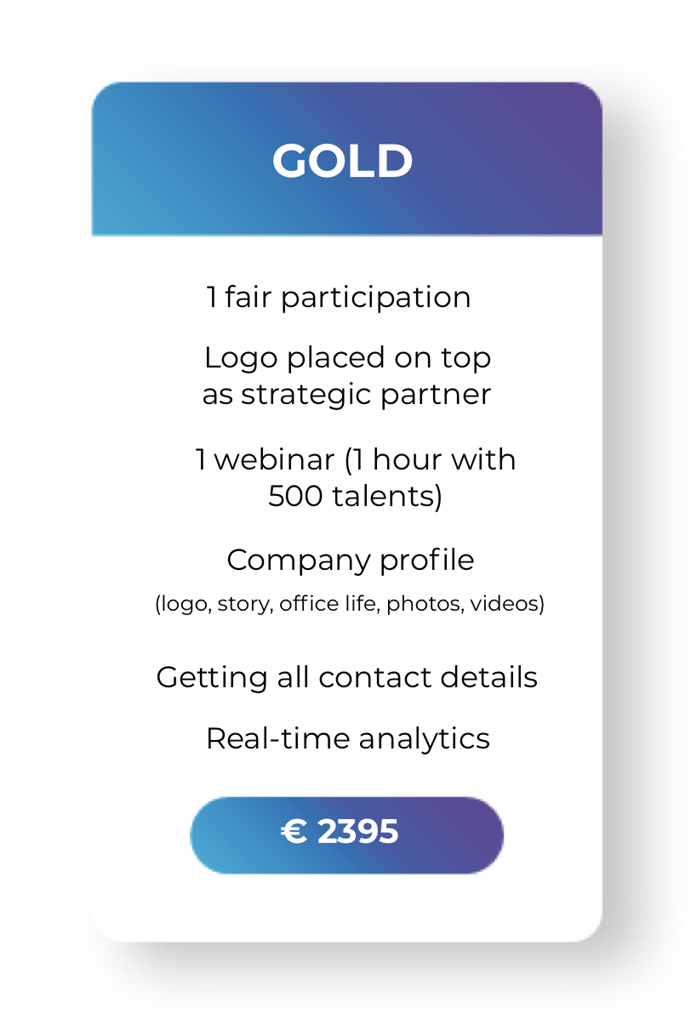 WE ARE TOPTALENT
5.5 million users across 200+ universities registered, toptalent.co is the leading career platform for university students & graduates in Turkey.
We help students and graduates have the most promising career opportunities and find their dream job in the best companies of the world and Turkey.